How Did Brown Eyed Girls Come to Be?
The making of the Brown Eyed Girls took about 3 years from the conception of a girl group, recruiting and training, to the production and release of its debut album.
The production of the album alone took about a year and half. Han Won-jong, the vocal coach of big K-pop stars like SG Wannabe, Jang Nara and Ok Joo-hyun, was in charge of training the members of the Brown Eyed Girls.
The female quartet personifies the genre of music called "Hybrid Soul" in which R&B is combined with hip-hop.
Credits: KBSworld + edward1849@Soompi
Your Story - Volume 1
In February 2006 The Brown Eyed Girls released their debut album in South Korea, Your Story. The album did not do as well as expected commercially, but received positive reviews from critics. However it did spawn their hit debut single 다가와서, which became a minor hit through out Korea. The album was later re-released (repackaged) to include the girls new hit Hold The Line (which samples Push The Button by British girl band Sugababes and Technologic by Daft Punk). The song also became a hit which boosted the bands popularity even more.
내가 여름이다 & 떠나라 미스김 - Volume 2
After a decent break the girls went back into the studio to work on their sophomore album, which was later titled, 떠나라 미스김. The first single to be lifted from the album was 너에게 속았다 (translated to I Got You Fooled). They later released the single 오아시스 featuring LEE Jae Hoon. The final single taken from the album was 내꺼야 in which the girls collaborated with SeeYa.
During the break between their debut album and their sophomore album the girl group released their first digital single titled 내가 여름이다. The single was later included on the girls sophomore LP.
With Love (mini-album)
The band went on to release their first mini-album (second digital album) With Love in January 2008. The first single to be taken from the mini-album was L.O.V.E. which became an instant hit in South Korean making the girls a house hold name in their native country. The album has also been released in CD format for purchase. The second single was Love Action which was seen as another hit for the girl group.
My Style (mini-album)
In September 18,2008 they realsed their new mini album "My Style". the first single to be taken from their mini-album was "어쩌다" which means "How come".
Other Musical Efforts
The girls have also been featured on several South Korean Drama soundtracks. Including 포도밭 그 사나이 (song Loving You), 게임의 여왕 (song 독한사랑) and 대조영 (song 대조영
Real Name:
Kim HyoJin
Stage Name:
Je-A
Posicion:
Leader & Lead Vocal
Birhday:
Septiembre 18, 1983
Blood Type:
O
Hoobies:
Piano
FanCafe:
제일 아름다운 목소리 : JeA
Real Name:
Park HyoJin
Stage Name:
Narsha/Narcia
Position:
Vocal
Birthday:
December 28, 1983
Bloob Type:
A
Hobbies:
Piano, Collecting CD
FanCafe:
Fly High 나르샤
Real Name:
Jo MiHae
Stage Name:
Miryo
Position:
Rapper
Birthday:
November 2, 1983
Blood Type:
A
Hobbies:
Guitar, litening to music
FanCafe:
Essential MIRYO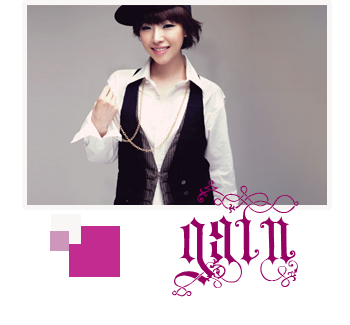 Real Name:
Son GaIn
Stage Name:
GaIn/ Baby G
Position:
Vocal
Birthday:
Sptember 20, 1987
Blood Type:
B
Hobbies:
Interior designinf, Dance, Watching movies
FanCafe:
노래하는 사람♬ 가인♡